In 2018, ProRail set up the 'TWAS' programme with an ambitious vision: achieving an optimal maintenance plan on the rail network that strikes the right balance between hindrance to passengers and freight, reliability of the track, and implementation costs.
At the moment, the planning is made by hand, which means that the focus is primarily on the hindrance to passengers. This process is very time-consuming and takes an average of 3 to 4 months of several employees at ProRail and transport operators. Due to time pressure, only one schedule can be delivered in which no trade-off can be made between different planning scenarios. Planners comply as strictly as possible to the agreements made with the entire sector, such as the maximum frequency and duration of maintenance work per train corridor. In addition, the quality of a planning cannot be substantiated with hard figures.
In order to find a good balance between transport disruption (for passengers and freight) and maintenance costs, ProRail wishes to integrate a tool with smart algorithms in its planning process. Success depends on the following factors:
The tool must be able to support different planning scenarios;
The tool must be able to deal with a large number of constraints, such as detour routes and mandatory planning periods;
The tool must be able to deal with critical capabilities, such as specialist staff;
The tool must be able to run in a live cloud-based production environment with direct integration into real-time data sources.
ProRail has partnered with Macomi to optimize planning with the Macomi platform. The platform uses a specialised optimization algorithm. This algorithm can evaluate more than 3 million schedules in a short period of time, in order to show an optimal planning to the end user. The user is able to set up a planning scenario himself, whereby the constraints can be adjusted as desired. This is a significant change in ProRail's planning process and will have consequences for the entire rail sector. Various scenarios can be calculated quickly and discussed with transport operators and contractors. The effects of each scenario on costs and hindrance are quickly visible and easy to compare. This makes the tool useful for planners, but also for a wider group of users from the sector. Thanks to this algorithm, these users are able to fine-tune their appointments. The Macomi platform runs entirely within ProRail's Azure cloud environment.
The optimisation software was put into use by ProRail in a production environment. The team of ProRail planners works with the tool on a daily basis and has already achieved great results. Eric Thieme (program manager TWAS) talks about his experience with Macomi and the tool:
"In an ever-changing rail world where scarcity dominates the game, optimisation algorithms can help to always make the best choices. It's all about making those choices at the right time, not too early and not too late. Macomi has helped ProRail by using their expertise and know-how, but also their go-getter mentality, to build a state-of-the art algorithm that will help us make the railways affordable, available and reliable. The enthusiasm of the planners for the new possibilities when using this first tool is the best indicator for me that we are on the right track."
Would you like to know more about this business case on maintenance planning or what we can do for your company?
We invite you to contact us at:
Michele Fumarola
Partner at Macomi
m.fumarola@macomi.nl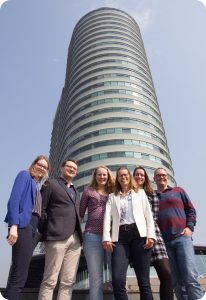 The Port of Rotterdam has far-reaching ambitions to shift the modal-split from road to rail. At the same time the freight transport by tracks in the harbour of Rotterdam changes continuously due to growth of existing companies, new terminals on the Maasvlakte and changing logistical concepts. This led to the need for tooling to comprehend the complex rail network and being able to analyse it.
For this the Port of Rotterdam uses the simulation tool RailGenie since 2016. This unique tool developed by Macomi constantly enables the Port of Rotterdam to answer questions like:
Is there sufficient capacity on the tracks to accommodate expected growth?
Where precisely do bottlenecks arise in the infrastructure?
What are effective measures to fix these bottlenecks?
What are the best preparations to anticipate future growth of freight transport in the harbour?
How to visually support suggested solutions to all involved stakeholders?
RailGenie offers answers to these questions, and many more in easily comprehendible outputs to support staff members in decision-making and presenting solutions to all stakeholders.
Staff members of the Network Planning and Capacity department of the Port of Rotterdam, responsible for the accessibility of the harbour by rail, articulate it as follows:
''With RailGenie better advice can be given about issues concerning accessibility of the tracks. Now analyses are less error-prone and can be used dynamically, which leads to reliable results. RailGenie is exactly what we need to anticipate bottlenecks and secure the long-term accessibility of our harbour with the rail network. '' They added: ''Furthermore we think of Macomi as a customer-oriented company with professional employees. The employees where very well able to understand our perspective and as an extension there of our customer needs in a simulation tool. We very much enjoy cooperating with them!''
As of 2019 the Port of Rotterdam jointly uses RailGenie together with ProRail.
Do you want to know more about this business case, RailGenie, or what we can do for your company?
We welcome you to contact us via:
Drs. Toos Zandstra
Senior advisor Rail, Port of Rotterdam
Dr. ir. Corne Versteegt
Partner, Macomi
C.Versteegt@macomi.nl